Here you'll find the latest news, drivers releases and more!
Dingz by Techdom - Driver for Control4
We are proud to announce a new driver hitting our drivers store and collection for the Control4 automation system - Dingz by Techdom.
We will start by talking every feature our driver brings and how it integrates with Control4, then you'll find more about the product itself and how it works.
INTEGRATION WITH CONTROL4
Integration into Control4 allows you to control lights (On/Off Lights & Dimmable Lights), create advanced lighting scenes, open/close shades, add actions to motion detection, thermostat functionality and more all from a single point using Control4's touchscreens, mobile applications, handheld remote controls, onscreen and remotely with 4Sight Services.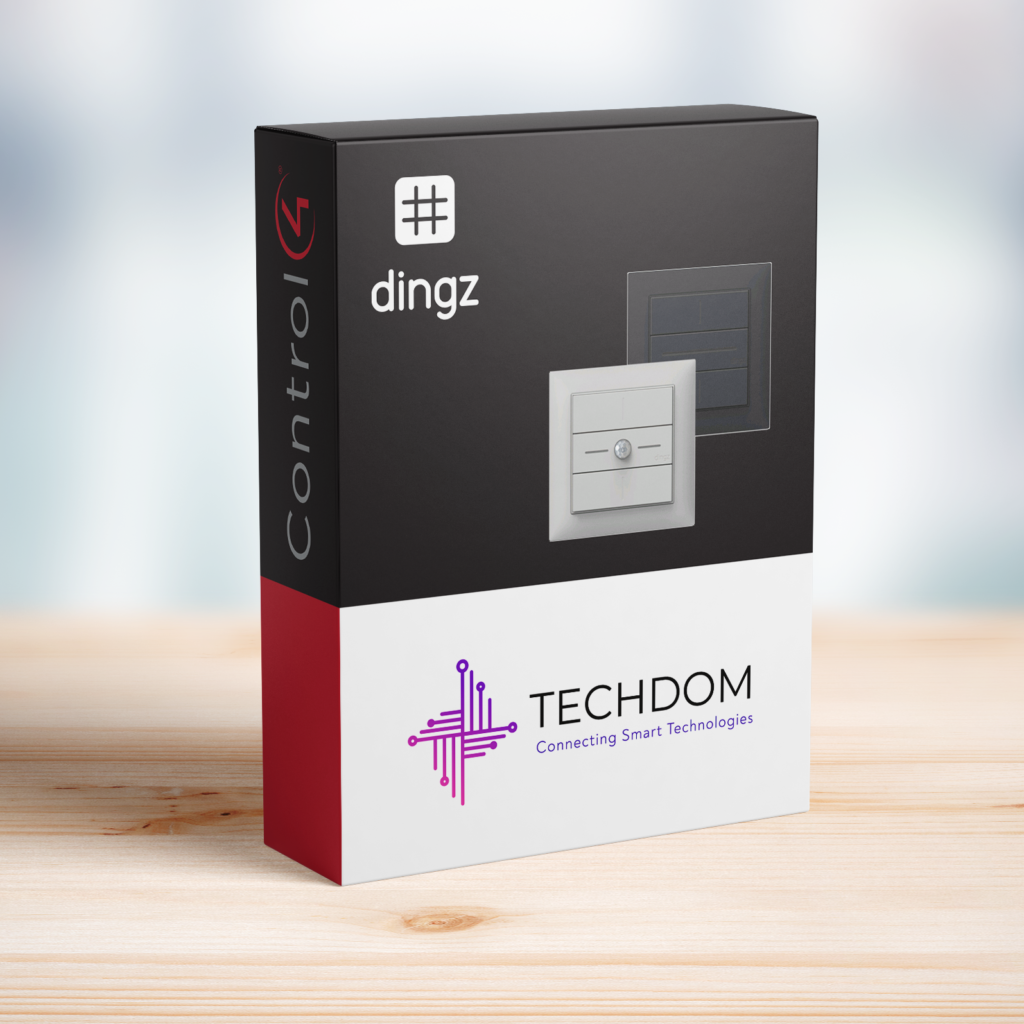 FEATURES
Fetch useful information into main driver in composer (dingz model, dingz name, dingz room name, SSID, MAC…)
Automatic renaming of the main driver
Supported functionalities:
Lighting
— Switch
— Dimmer
— Advanced Lighting Scenes support
Shade
— Blind
— Shutter
Thermostat
— Heat/Cool mode
— If thermostat functionalities are handled by dingz or virtually by control4
— External or Internal relay for valve
Motion Detection
Relay
Interested? All of our driver come with 120 hours of trial mode so you can test the driver before buying. You can find all of our drivers in the drivers download page.
WHAT'S DINGZ?
Dingz is a smart wall switch, made in Switzerland by Iolo AG. Each dingz controls the lighting, blinds, heating and ventilation in your home. It also displays the energy consumption of each appliance connected to it. Installation is just as easy, ideal for retrofit and new projects. Dingz allows you to adjust the lights precisely, you can dim each lamp and also create your own customized lighting scenes via the dingz app.
Currently there are two dingz models available:
- dingz (dz1f-4b)
- dingz plus (dz1f-pir)

CONTROL LIGHTS
With each dingz switch, you can continuously dim up to 4 lights. Manually or automatically, using the brightness sensor.

CONTROL BLINDS
With each dingz switch, you can raise, lower, and adjust the slats of up to 2 electric blinds.

CONTROL THERMOSTATS
dingz also let you control thermostats. Manually or automatically, using the temperature sensors.

AUTOMATE
Launch actions according to your movements thanks to the motion detector. Just install a dingz plus with motion detector
Copyright © 2022 - TECHDOM
All Rights Reserved